UPCYCLING AT
HARDHEIM LIBRARY


Cast-offs get a
second chance
Breathing new life into old things – that's probably the simplest way to explain the concept of upcycling. Using creativity, fun and a bit of skilled craftsmanship, discarded objects or clothes can be saved from being thrown away. Apart from making an important contribution to our environment, it's also easy on the wallet.
And if that's not enough, you can also do something good for the community, like Peter Anton, our product development manager who has worked for us for many years. A qualified joiner and organ builder, Peter is a real expert in this field and he puts his professional know-how to good use every day on behalf of our customers in the chain restaurant sector.
Peter's work at REINHOLD KELLER often takes him to our own production facilities, but he is mainly busy on his computer, tinkering with new products and materials, improving their quality for instance.
In his free time, Peter loves to make things and has put his skilled craftsmanship to good use at his local library in Hardheim, highlighting the topic of upcycling. The materials for Peter's creations come from our warehouse: discarded tabletops, stools and boxes were saved from the dump, revamped and are now gleaming in their new guise in the library. The shelves that have been set up in the play and lounge areas are particularly eye-catching.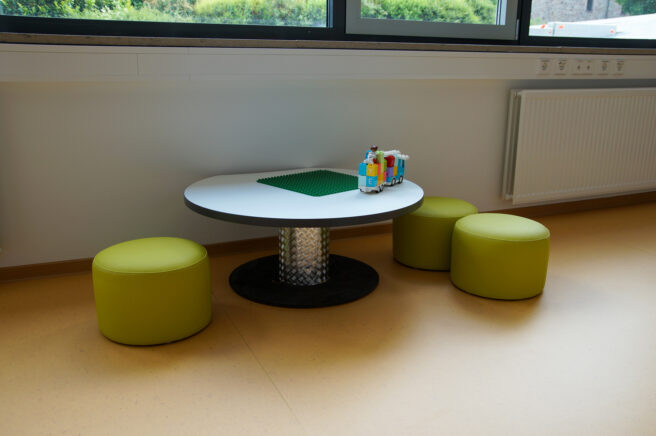 The grand opening of the local library at the Walter Hohmann School Centre took place at the end of May, following an 18-month construction phase. The library team has now moved from a single, dark room into this friendly and modern space. Various patrons and sponsors have supported the project with donations of cash and materials.
We hope all the bookworms, big and small, will enjoy spending time there and browsing the shelves in the newly designed spaces!
GOOD TO KNOW:
The Walter Hohmann School Centre is named after the pioneer of space travel who was born in Hardheim in the Odenwald district of Germany on 18 March 1880.
Between 1911 and 1915, Walter Hohmann, structural engineer and building officer, calculated the properties a rocket-propelled spacecraft would need to reach other planets with the minimum use of energy. He investigated its re-entry into the earth's atmosphere as well as the problem of achieving the escape velocity. In 1925, he published his works in the book entitled "The Attainability of Heavenly Bodies", which includes the Hohmann orbit and describes a fuel-efficient transfer between two orbits around a dominant heavenly body. Some of the ideas presented in this work were later incorporated into the Apollo programme for a manned moon landing.
(*Source: https://de.wikipedia.org/wiki/Walter_Hohmann)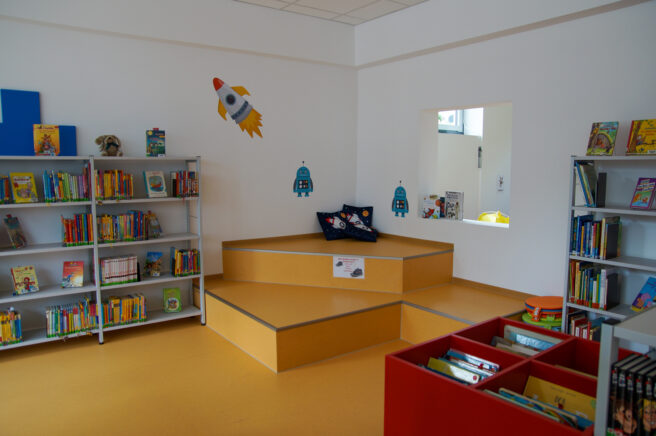 Impressions