Your partner for
interior fitting projects
Services
Complete single
source solutions
By choosing the REINHOLD KELLER Group as a partner, you will have the support of a multifaceted company with extensive know-how and its own in-house furniture production in Germany. Our wealth of experience gained from over 20,000 projects successfully realized around the world as a general contractor or installer of interior fittings / joiner / carpenter makes us a well-regarded global player in this sector. Our core competency is the implementation of national and international branch and franchise concepts primarily in the chain restaurant, hotel, fitness and healthcare sectors.
We offer you a complete solution, tailored to your project – whether it is a new build, alteration, renovation or extension!
Our wealth of experience gained from over 10,000 projects successfully realized around the world in the interior fitting sector and as a general contractor makes us a well-regarded global player in this sector. We would be happy to take on the responsibility of managing the entire project as the general contractor – starting from the detailed design or straight away from the design planning stage. We will of course always keep a close eye on the costs for you too!
We are your
ROLL-OUT Partner!
Your project
our services
EFFICIENT PROJECT MANAGEMENT AND QUICK DECISIONS
We guarantee you will have the same person to contact right from the start of your fit out concept. It makes no difference if we are undertaking the joinery for you or taking on the role of general contractor coordinating all of the trades (painters, floor layers, dry lining, electrics, plumbing, air conditioning and security technology, joinery and lots more). You can be sure we will always have the right solution for you at our fingertips.
We won't just handle your project for you but also be your personal contact, manager and problem solver. Our project managers will bring you the know-how from over a thousand projects in the chain restaurant and hotel interiors, healthcare and fitness studios sectors and coordinate all of the development and production processes, right through to completion on the construction site. Because your key objective is the same as ours: sticking to the budget and deadlines so you can impress your customers or guests with a new concept as quickly as possible.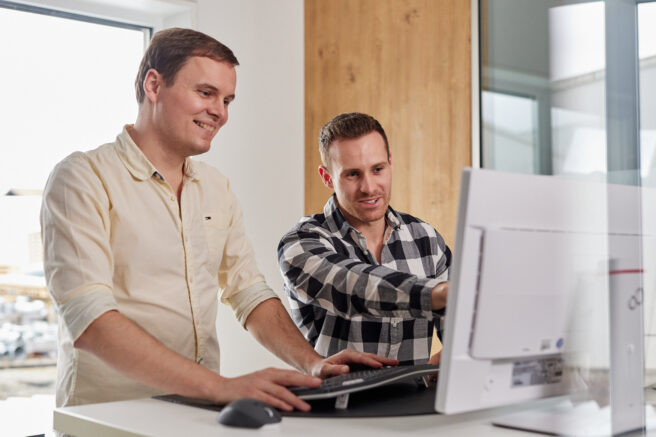 DESIGN PLANNING AND DETAILED DESIGN
We would of course be very happy to assist you in this crucial project phase too. To start with, we see ourselves as a partner who will translate your ideas and visions into a viable concept. First and foremost, we will listen attentively to you: What are your specific wishes and ideas? Who is your target group? How many customers or guests do you expect each day? What should be the USP of your concept? What are your plans for expansion? Do we need to incorporate elements of any existing interior fittings and how should they be conceived? And finally, the hard facts: expansion plans and budget limits?
Taking your ideas as the starting point, our experienced team will work closely with you to develop a viable, practical concept fit for everyday use. Because the very best design is useless if it is not within your budget, too expensive to run or won't be accepted by the relevant market in the first place. We create an initial mood board for you so we can agree with you whether the idea and the choice of colors and materials meet your expectations before we even start on the actual planning. The key benefit for you here is that our designs are based on the in-house expertise of our furniture designers, project managers, value engineering experts and our central purchasing department's worldwide sourcing network.
During the detailed design phase, we lay the foundation for invitations to tender for the relevant services on your behalf. We "translate" the preceding concept design for you, for example into dimensions, quantities and materials, into details of quality and character, in order to ensure that the subsequent awarding of contracts for services is effective and a precise fit for your renovation or new build.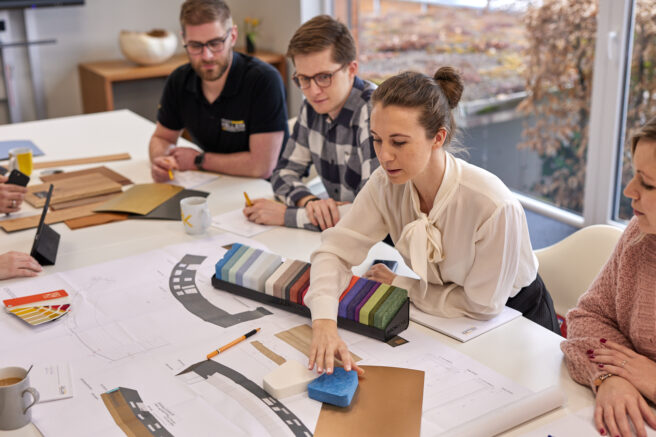 SHELL, BUILDING SERVICES ENGINEERING & FINISHING TRADES
If you hire us as your general contractor, we will not only take care of the tender process and subsequent selection of subcontractors, but also construction and project management. We have an international network and because we have worked with our construction partners for many years, we can choose exactly which company would be suitable for your fit out and who should be considered for the project. Our selection process very much involves looking for companies who are located close to your project so that transportation routes and journeys are minimized.
We would be happy to assist you in every area of construction – from structural engineering/shell construction and technical trades right through to the individual finishing trades. Always focusing on your requirements and wishes.
PRODUCTION @REINHOLD KELLER

We naturally source most of the furniture/joinery from our own production. "Made @REINHOLD KELLER" – quality, cost benefits, flexibility and efficiency are also paramount during production, which is why we continuously invest in our own production facilities and are constantly improving them. The heart of our business is furniture production. It is manufactured at our headquarters in Kleinheubach where we have one of the most cutting-edge production facilities in Europe. High precision 3D data is fed to the machines directly from our design department. Superfluous coordination channels and sources of errors are therefore avoided. This means we can execute projects faster and react more flexibly to follow-on purchase orders.
Our own production facilities for stainless steel and upholstery are the perfect complement to our furniture manufacture.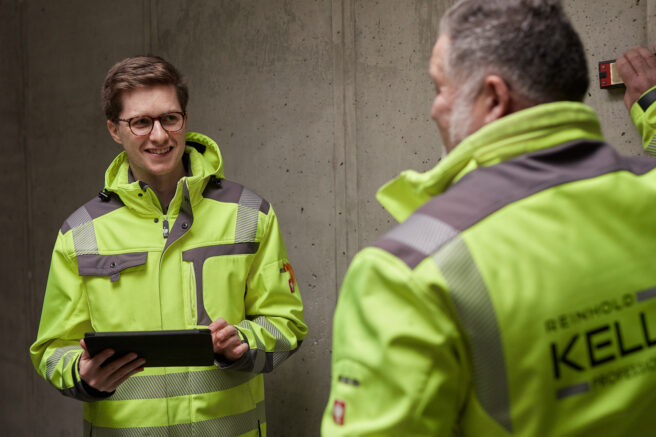 LOGISTICS, CUSTOMS & INSTALLATION – EVERYTHING FOR YOUR ROLLOUT
The greatest efficiency means nothing if your fittings do not arrive on time and installation is delayed. Here too, we have the perfect line up for you. Our customs department and a state-of-the-art logistics center (6,800m², 14 truck docking stations) at our production site in Kleinheubach allow us to plan the most time-efficient transport routes around the world. Moreover, we offer additional warehousing capacity for individual elements or complete sets of fittings so we can be flexible and have them ready to hand when you call them off.
Our fitters, who have trained in-house, then make sure installation runs smoothly on site in close cooperation with external partners, ready to find quick solutions to any unexpected challenges.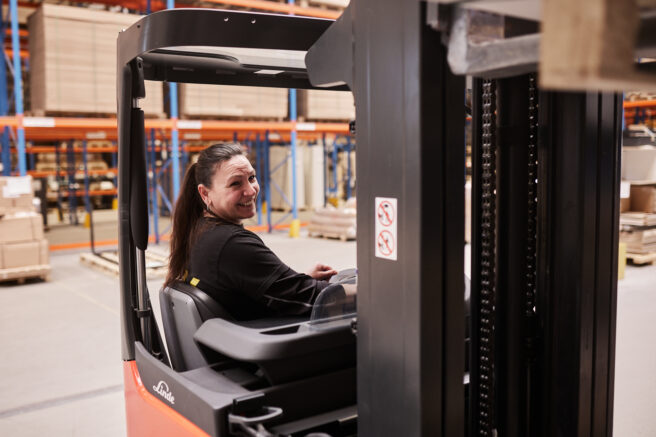 VALUE ENGINEERING – THE BASIS FOR YOUR ROLLOUT
Here too, we take on the role of your sparring partner again. For rollout-capable fit out concepts you need more than ever a partner to support you who will constantly optimize your costs and construction processes with creative and realistic proposals. For example, we will improve the qualitative and economic aspects of your project, getting your ideas and visions ready to go.
You can enjoy the following benefits from our rollout experience:
Our design and development department will make suggestions on how you can make structural elements simpler, more cost effective and more sustainable and get them ready for rollout.
Our global purchasing creates the opportunity for you to be able to compare alternatives, for example loose furniture or decorative elements (lighting, window dressings…).
We can even offer you the perfect solution when it comes to selecting the individual partner trades thanks to our broad network.
We will continue to optimize the processes and construction procedures with you from project to project.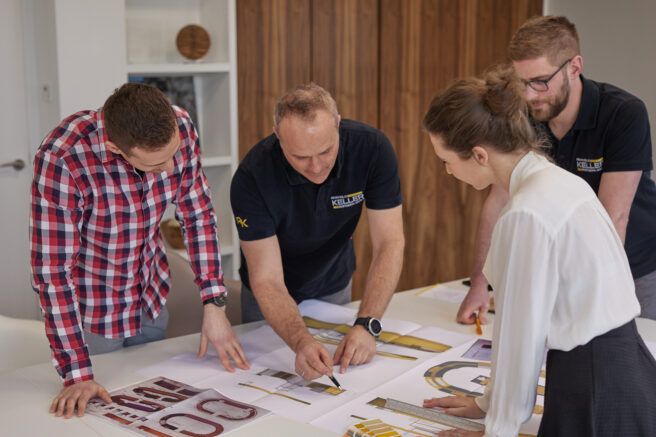 AFTER SALES
Even when a project has been successfully completed, we will continue the partnership with you and our After Sales team will be available for any questions or suggestions.
Digital solutions
24/7 After Sales Webshop for furniture parts
24/7 After Sales Service for faults / emergencies
Rapid complaints and defects handling and spare part procurement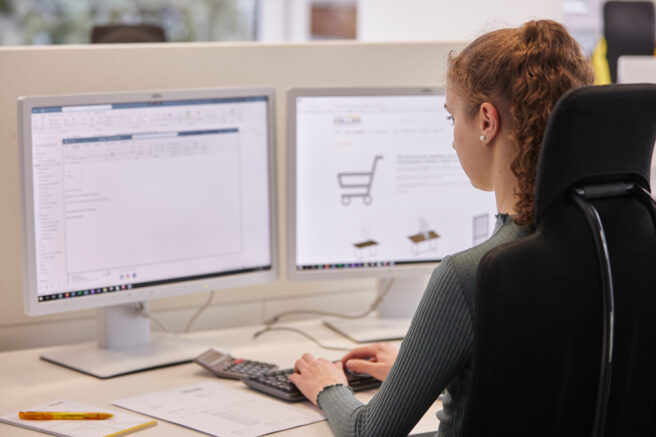 We are your partner
Are you planning a conversion or
a new building?