5000 parts
a day…
Inside RK
A PRODUCTION FACILITY
LIKE A TAILORED SUIT
The REINHOLD KELLER Group has an effective range of quality solutions in the catering industry, store fittings, hotels as well as in fittings for gyms. It's obvious why so many familiar sounding names appear on our customer list, such as the two fast food giants McDonald´s and Burger King, hotel chains such as Holiday Inn Express, Ibis, the well-known Superdry or TK Maxx stores plus the market leaders in the gym sector Clever Fit and McFit.
INVESTING IN THE LOCATION – MADE IN GERMANY
To keep things that way, we at the REINHOLD KELLER Group have invested consistently in our production, both in terms of space as well as technology. What sets us apart from many other companies is that we consistently develop our own resources. Translated from corporate speak, it means we invest in our locations – no matter whether it involves technological extensions or staff – whereas many of our competitors have made it a rule to hand over as much as possible to outsourcing. This is how we're able to produce almost all our interior fittings solutions in-house. This depth of production is rarely found elsewhere. Our customers obtain from us quality, made in Germany – which they also appreciate and several have done so for many decades.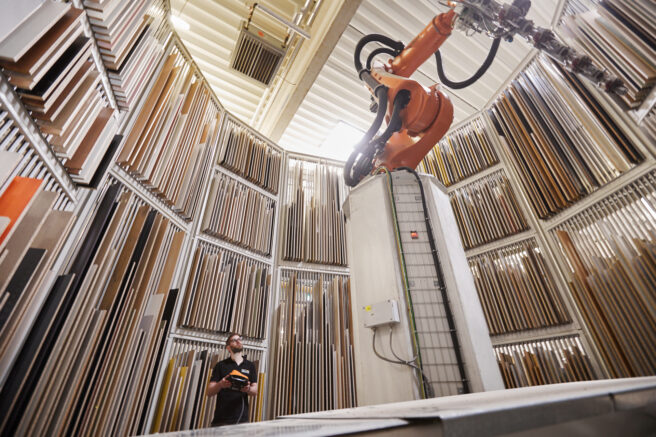 MAJOR BENEFITS FOR THE CUSTOMER
In order to be able to provide this quality to our growing customer base in the future as well, and to respond to inquiries even more flexibly and faster, following around 18 months of planning, simulation as well as reconstruction and assembly, we opened our new, partly automated cutting and edging plant in mid-2018. This investment in technical progress has been a totally logically consequence for us to be able to service our customers even better in the future. Increased warehouse options for our wood raw materials, generally higher capacity in production as well as faster, smoother processing that is less susceptible to errors make our project handling even more effective and efficient – a clear benefit for our customers.
The inauguration of our new machine park now occurs as a direct result of our planning operations. Which means that what we produce as 3D drawings on the computer is entered directly in the machine by the designer without further interfaces. That's REINHOLD KELLER 4.0.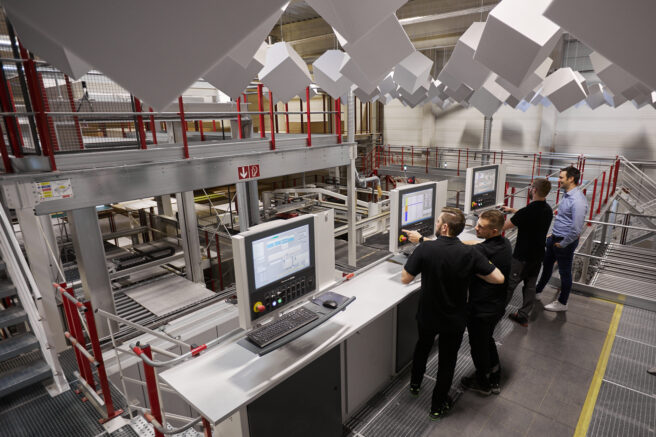 EXACTING DEMANDS
As the partner company for the implementation of this not exactly minor assignment, we chose the IMA Schelling Group, the specialist in executing sophisticated construction solutions for woodworkers. We were not interested in a basic panel cutting system but rather one that involved a minimization of interfaces through direct digital connections between individual process stages. The whole thing was combined with production control technology – which means each part is traceable at any time. We therefore now know when which part arrives where for a particular project, and it is all of course process-optimized and automated. At the same time, our objective was to optimize our warehouse capacity. In combination, this has resulted in a noticeable increase in our production capacity.
But these were only a few of the demands we made of our new production facility. We also wanted our huge range of parts to run smoothly on the new system. Which means we now operate 2 shifts to produce a capacity of up to 5,000 different parts of batch size 1. In addition, there were also a few other minor items to take care of, such as the space we operate in. The new system was to be integrated in the existing production hall. Of course, there were also a few construction issues to consider. The IMA Schelling Group accepted the challenge.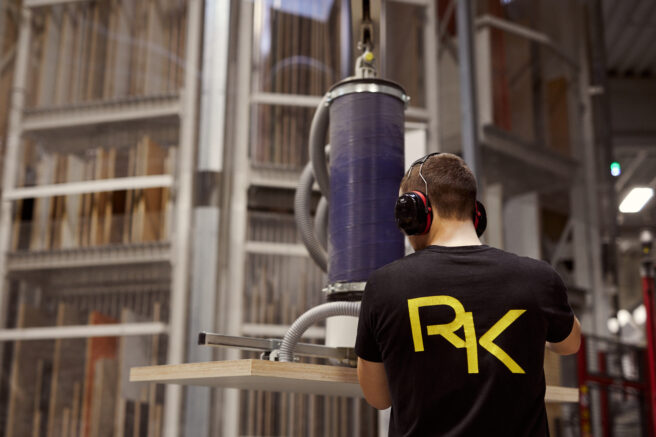 A PRODUCTION FACILITY LIKE A TAILORED SUIT
You could describe the production facility as a tailored suit for our business or similar, which our affiliated company designed and created for us. This begins with our warehouse space. It was constructed on two levels to make use of the full capacity our hall provides. The delivered boards are now scanned after they are unloaded, stored in the relevant storage space and automatically fed to the saws when needed and depending on the project. Because the system knows which material is stored in which place.
The boards are then cut to size using three saws, before these parts are transferred using an automatic transport system to what is known as a buffer system between the saw and the edging device. In this way, output peaks can be balanced out properly and orders can be processed in an even and sensible manner. This is because only when the downstream edge bonding machine, the Combina, gives a green light, are the parts sent forward. The edges are given high quality treatment – on one to four sides. The edges are glued with PUR adhesive.
Incidentally, we store cut remnants for subsequent orders. This ensures our materials are used properly. We even go a bit further here as well. Our production facility is so smart that it already plans on using remnants of parts that have not even been cut yet in follow-up projects. As such, we avoid unnecessary storage of parts at the same time.
In the end, everything moves through a loading and transfer system to the appropriate removal points. This is controlled by software, which is even capable of identifying whether the parts need further processing. This is also the rendezvous for all the other parts of the relevant component, which do not have to go through the system, such as various purchased parts. All the components are then combined for specific projects at the end and delivered by our own logistics to the appropriate project location.
MAJOR INVESTMENT PROVIDES A MAJOR CUSTOMER BENEFIT
The fact that everything does not run smoothly from the start is probably familiar to anyone who has ever gotten such a complex, hi-tech system up and running. Internally, this costs additional strength and energy above all. But we also see that this investment has been absolutely worthwhile and will provide our customers with all kinds of added value in the future – greater flexibility, lower susceptibility to error, greater accuracy, top quality and faster processing. Because that is exactly what motivates us every day: to provide the greatest possible benefit to our customers and achieve the best possible result for them.
There are quite a few things happening at REINHOLD KELLER. And we'd even like to look behind the scenes a bit more in the future. At #rkinside we'll take a regular peek at what's going on inside again…