DOING GOOD
DEEDS TOGETHER
We are working on construction sites all over Germany as a general contractor on behalf of our customers. For instance, on a project in the south-western region of Swabia, where it is not only the idea of sustainability that is playing a role.
"I have an idea."
Buildings often have to be cleared out and all sorts of junk has to be disposed of before we can actually start work. Things were a little different in Swabia because our team working with Project Manager, Marlene Schellenberger, came across the fully functional fittings of a former hair salon.
After an initial examination, one thing was clear: it would definitely be a shame to throw everything away. "I have an idea, just let me make a call," said our Key Account Manager, Florian Stemmler, who took part in the inspection. After a quick chat on the telephone, Florian came back with a proposal which was not just sustainable, but also had an important social background to it.
Aid for Ukraine
Klaus-Peter Albert, also known as "Capi", was on the other end of the phone. "Capi, can you make use of a fully functional set of hair salon fitments?" and he was immediately enthusiastic about Florian's idea. During the disastrous floods in Ahrtal, "Capi" and his associaton Initiative Menschen e. V. , were helping out those in need. The man from Faulbach has also been assisting people affected by the ongoing war in Ukraine and helping wherever he can. For instance, Capi has already arranged a few shipments into the war zone, carried them out himself and experienced at first hand what an air raid warning really means.
After the two had spoken on the phone and checked back with our customer, it was clear that REINHOLD KELLER would dismantle the salon fittings and Capi would organize their transportation to Ukraine. No sooner said than done! Marlene, our project manager, coordinated the proper dismantling of the fittings so the items could be loaded and despite all the dangers, transported to their new country of destination.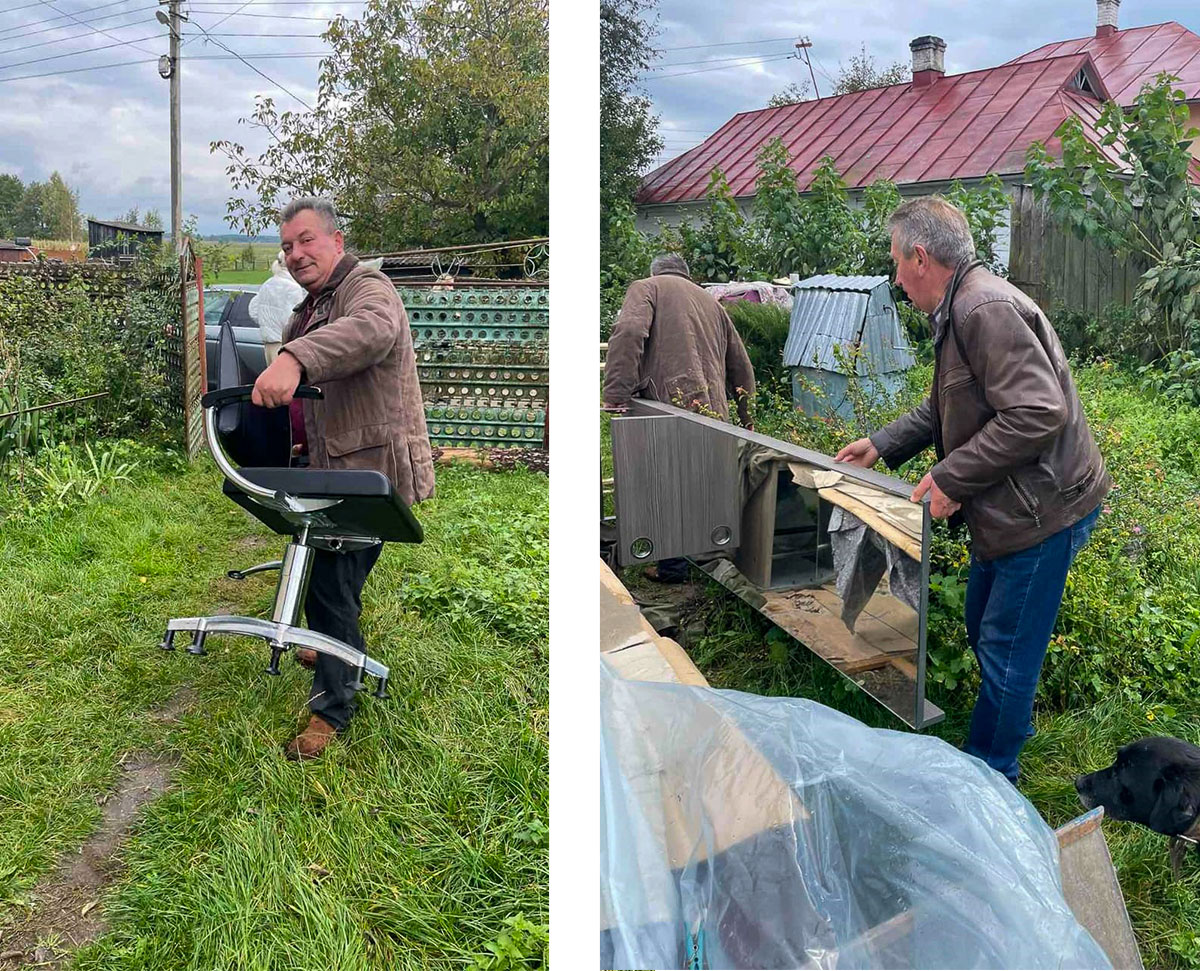 A little piece of normality
It is plain to see in the photos how enormous the joy and gratitude were! For the villagers, the "new" hair salon means a little piece of normality in these challenging times. We take a trip to the salon for granted but in many parts of Ukraine it has become a real luxury. It gives people who are trying to live their everyday lives in the war zone a tiny bit of hope for better and above all, peaceful times.
Doing good deeds together: We would like to thank our customer who immediately agreed to this spontaneous idea. We would also like to take this opportunity to express our huge thanks to "Capi" who is a true hero fighting tirelessly for his fellow human beings with his commitment. Right on his doorstep and far across international borders.