25 Years
of CNC POWER
News
Happy Birthday,
CNC!
How Time Flies! This year we are celebrating the 25th anniversary of the CNC Milling Machine in #TEAMRK and only very few people can claim to have been there from the start. Matthias Bretz is one of the few who has accompanied this technical progress in our company from the very start.
He started working in #TEAMRK in 1996, and just a short time later the company moved from the place where it was founded, Bürgstadt, to Kleinheubach. When the move was completed, Matthias initially worked as a joiner in our workshop. At that time, the production of complex parts with templates and special equipment was still a great challenge. When there was talk of a CNC milling machine being bought in 1998, Matthias pricked up his ears because he his interest in CNC machines had grown since his apprenticeship as a wood technician.
Happy Birthday, CNC!
Together with his colleagues Winfried Reichert and Harald Fischar, he set off to do a course in the Black Forest. And finally, in March 1998, the new machines in Kleinheubach were commissioned. The demands on the production side were extremely varied: everything had to be made, from a simple structural rib right up to complex room doors. At first, some of the programming had to be done by hand on the machine. And with the software of those days, that was very time-consuming. "Mistakes crept in very quickly because every dimension had to be read off the drawing and then typed into the machine again," said Matthias.
After a year, the long hoped-for relief to the daily routine arrived: a software provider made it possible for programs to be created directly from the drawing program, which could then be transferred to the machine – tremendous progress for the time! With this CNC, parts could now be made that would not have been possible before with conventional machines.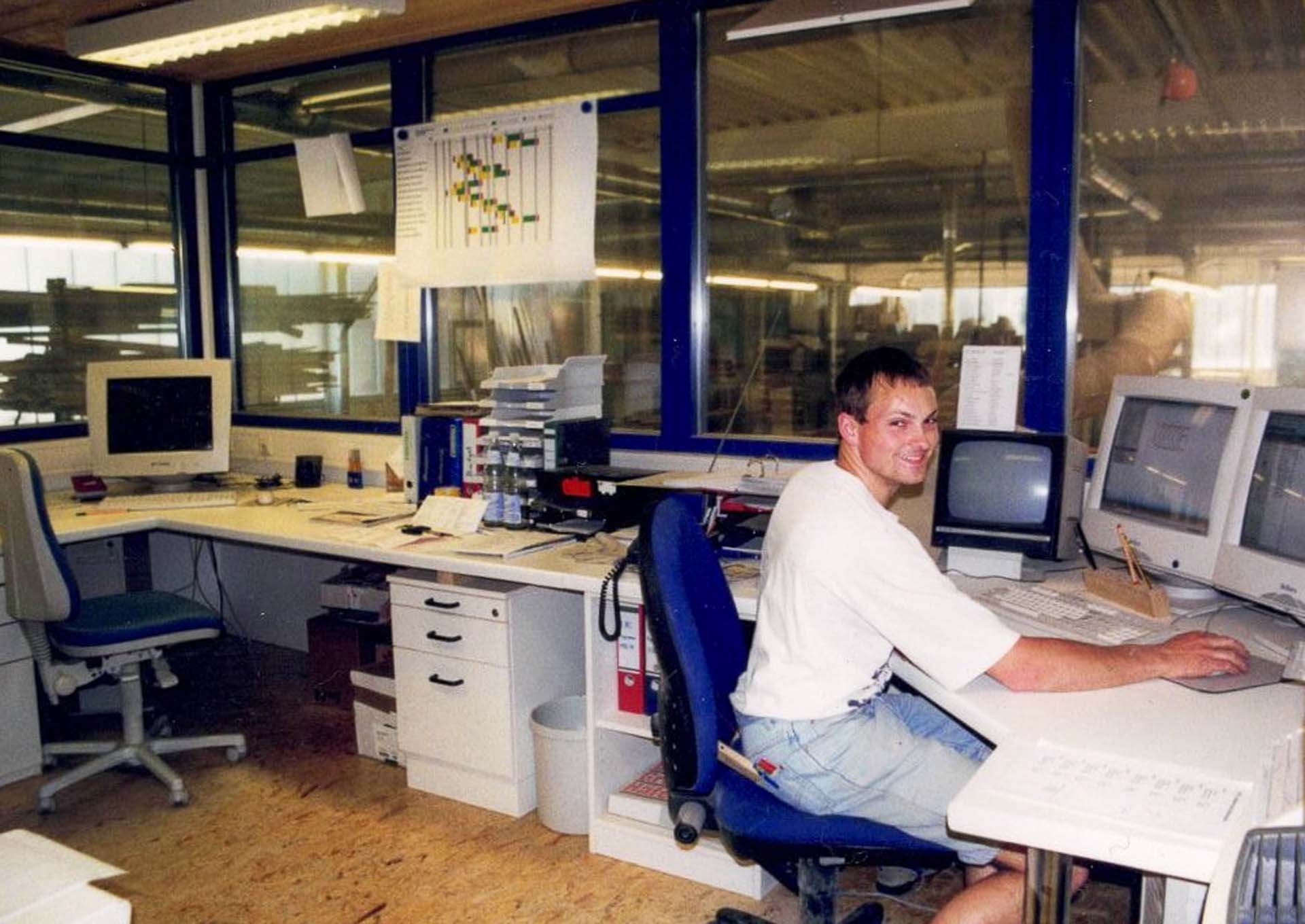 A Milestone for Production
Due to rising production capacities, further limits were soon encountered in CNC milling. In 2006, the machining of longer and wider workpieces and three-dimensional milling, drilling and sawing became possible thanks to further investments in the machinery.
In 2016, the first signs of wear to the first CNC machine began to sow and a replacement was obtained very quickly.  The need to be able to mill edges on the CNC increased with the individual needs of customers. "Two birds" were killed with one stone: thanks to this new acquisition, it was now possible to attach and glue plastic edges to contours milled on the machine and to mill them so they were flush.
In 2018, another machine was acquired, which is specialized in cutting panels we have printed ourselves. This was another technological milestone because no more limits are set on customers' creativity and demands thanks to the patented digital printing from MB Digitalprint. The company, which is part of the REINHOLD KELLER Group, offers the right solution for all substrate materials and processing of the products has been optimized by expanding the machine park.
And the special feature? "A camera system detects the position of the panel on the machine and it is milled to the right size. What's more, the machine is suitable for parts where an exact milling depth is key because, unlike other machines, it keeps the entire surface of the workpieces in place by means of suction," Matthias says about the special feature.
For good measure, a doweling machine was purchased, which was replaced by two more efficient machines in 2019. From then on, various milling tasks were possible.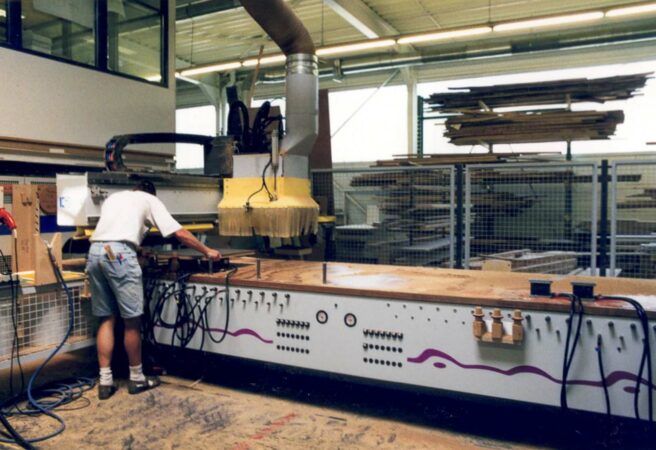 Perfection Right Down to the Smallest Detail
Currently, there are six CNC machines in operation at REINHOLD KELLER. A team of 11 specifically takes care of this important area of our in-house production in Kleinheubach. In proper style, our CNC team celebrated this 25th anniversary with a party in Matthias's idyllic vaulted cellar. And now we have to carry on a full pelt: To the next 25 years!