Our IRONMAN
HERO Marc
Inside RK
YES, HE DID IT!
Marc made it! After swimming 3.8 km, cycling 185 km and running 42.2 km, he crossed the finish line on August 15 at the Mainova IRONMAN Germany in Frankfurt as 77th in his class after exactly 10:53:00 hours. No doubt about it, but you can never predict a race. In addition, there were the almost tropical temperatures, of which Marc is not really a fan, as he emphasized in the run-up. Even the one or other triathlon professional had to capitulate in the past, because if the body can no longer perform these maximum efforts, even the best preparation is of no use. In the overall ranking, by the way, Marc is in 395th place.
THE BIG GOAL FIRMLY IN SIGHT
Marc has spent more than two years "struggling" to reach his big goal. At least that's how his colleagues in his department see it, who, like many from Team RK, have kept their fingers crossed and cheered along. " It' s actually inhuman what Marc has achieved. Even in the run-up to the race, he went through his program for months with iron discipline. We witnessed it live in the department and all take our hats off to this enormous achievement," said Andreas Eiteljörge, who is responsible for data protection, occupational safety and environmental management at REINHOLD KELLER. Andreas and his wife Tanja also didn't miss the opportunity and – in compliance with the AHA rules – cheered Marc on live on site in Frankfurt. Via tracking app, they were able to follow the race and knew when Marc was where on the track and the "noise level" has to go up again.
Through the social media channels, the RK team had sent virtual support as well as congratulations to the colleague and Marc was virtually surprised by it. "I would like to thank everyone for the motivating support for my start at IRONMAN Frankfurt 2021! This is not a matter of course and I appreciate it very much!!! Andreas sent me the Facebook post. I read that on race day at 3:00 in the morning and it gave me another really motivating adrenaline rush!", the IRONMAN conqueror thanks.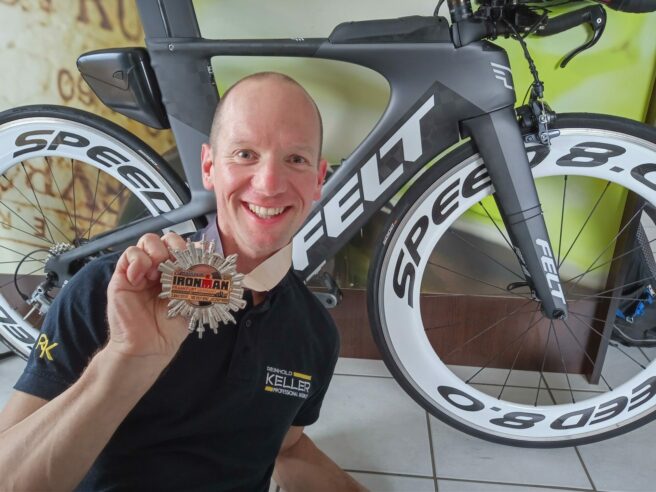 TRAINING, DISCIPLINE AND EVERYTHING ALL OVER AGAIN
Why actually triathlon and why the IRONMAN? Exposing yourself to more than 10 hours of physical exertion is really not conceivable for everyone and you have to be a bit positively "crazy"? "When I changed professionally in 2007 into the field service, I needed in the long term something to occupy me in the evening than in the hotel "to sit around. Through my best friend "Eisen-Michi", who has been an IRONMAN finisher several times, I got the idea to start triathlon as well. The combination of the three sports was ideal here. Running and swimming during the week, cycling on the weekend," Marc reports.
"Initially without any big goals just for fun, the ambition developed after a few competitions, after a significant increase in performance occurred with me such as a victory in my age group on the Olympic distance. The question then arose in my circle of friends, why I don't tackle the long distance, the supreme discipline? At the beginning, I didn't ask myself this question, because I had already struggled badly at the IRONMAN 70.3 Wiesbaden in 2015, finishing in over 6 hours. However, it went so amazingly well at the Frankfurt Marathon that I gave myself the all clear for the ultimate challenge in 2019: IRONMAN Frankfurt," Marc describes his path to IRONMAN and confirms, "Yes, positively crazy is probably the best description!"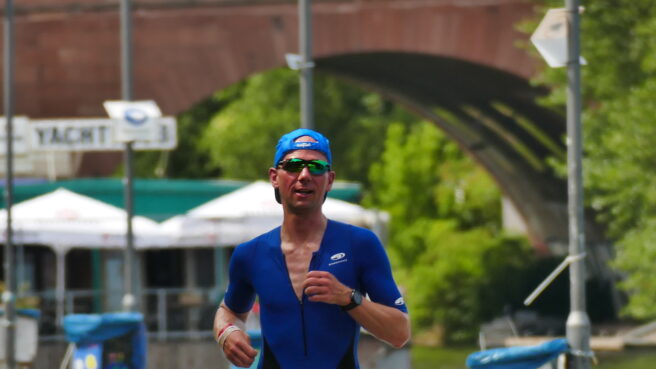 GLOWING SHARDS OF GLASS IN THE SHOES?
In 2020, Marc actually already wanted to compete. Due to the pandemic, the event was canceled and so it was another year of training, training and training. How do you motivate yourself again and again and does the "famous pig dog" ever visit Marc? "The "pig dog" exists, but there are methods to chase it out of his head. Just a short but intense look at a few competition photos, medals and certificates on the bulletin board is sometimes enough to go running even in the worst weather. Also the statement of my doctor at that time "You have a V8 engine in your chest", when I had a check-up to exclude possible complications. But of course the biggest motivation is when you have registered for the IRONMAN, paid the approx. 630,- Euro registration fee and are approaching this goal a little bit every day. It is also important for me to always keep in mind the fact that you are healthy and can, and are allowed to do THIS!", explains Marc, who is responsible for quality assurance & planning at REINHOLD KELLER.
On the day after the race, the modest Wahl-Schaafheimer felt pretty good so far. "When I wasn't moving, everything was fine", explains the satisfied IRONMAN finisher with a grin. "That was definitely the longest and hardest day of my life. And one of the most beautiful," says Marc three days after the Ironman. "After a good swim and first transition for me, I unfortunately made the first mistake after about 50 bike kilometers and totally overdid it," says Marc, adding, "From bike kilometer 120 came cramps, which had subsided again, but after the 2nd run lap around kilometer 21 there was the "receipt." I had to walk part of the way and that was then the famous 'man with the hammer' moment."
GLOWING SHARDS OF GLASS IN THE SHOES?
A special thank you also goes to his supporters on the course. "Many thanks to Andreas and his wife, who together with other friends, including "Eisen-Michi", had supported me insanely on the course until shortly before the finish. Only because of this, the last 2 kilometers, where I felt like I was running on red-hot broken glass, were manageable at all while running," Marc the strains that such a competition brings with it. His final conclusion: "Despite the pain, it was a great and emotional experience to reach your limits. I learned a lot. And yes, it is highly recommended!", says Marc with a mischievous grin.
What he has in mind as his next sporting goal, we naturally wanted to know from him. "So in the short term, my season is generally divided into the triathlon season from May to September and the running and duathlon season in the fall and winter months. Unfortunately, due to pandemic, the Frankfurt Marathon is cancelled this year, so I will only participate in smaller races. But the Ultra 50 in Rodgau in January 2022 could take place. Then I will be there! In the long term, there is the Challenge Roth, which I would definitely like to participate in. That is simply cult. Maybe 2023, if I am fast enough with the registration. The places are sold out very quickly – often in just a few minutes," says Marc about his plans.
We are very impressed by Marc's achievements, the thousands of training hours and his attitude and are very happy that he was able to reach his personal goal. As we all know, willpower moves mountains and Marc has proven this impressively! Congratulations!