Graphic composite panels
for individual design
Services
THERE'S NO LIMIT TO
CREATIVITY
The design of your interior fittings promotes the image of your brand, emphasizes its unique identity and makes it come alive. But above all, it creates an absolute feel-good atmosphere for your target group, often producing that WOW-effect you are looking for.
We asked ourselves the following questions in this context: What are you looking for in terms of graphic elements within the interior design? How can we fit out your project wholly in line with your corporate design? And what attributes does this technology need to bring with it?
CREATIVITY MEETS TECHNOLOGICAL INNOVATION
We very quickly came to the conclusion that the look and feel would ideally be reflected by every fitting element – wall coverings, partitions, floors, ceilings, counters, tables and so on. And we realized even faster that we need a robust product that can withstand the tough demands in chain restaurants, hotels, retail outlets, fitness studios and in the health care sector.
Using the patented technology of our subsidiary, MB DIGITALPRINT, we can ensure you get the perfect combination of design and durability: we print your customized design directly onto the suitable base material and then apply a print finish. Water-repellent. abrasion and impact resistant, chemical and sweat resistant – we can guarantee all of this for you!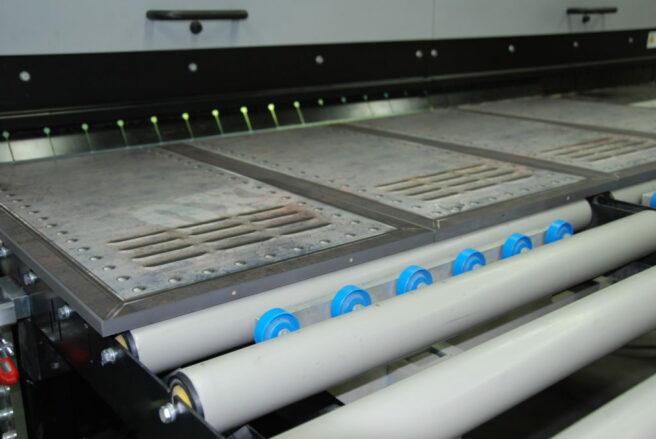 A³ – ANY DECORATION ON ANY BASE MATERIAL
Incidentally, there is no limit to your creativity. Whether you want to smarten up the graphics in your public washroom facilities, give your guest rooms that special kick or simply design the bathrooms and showers in your hotel or fitness studio with your look and feel, we can offer you the appropriate solution for any of these because our patented direct digital printing is oriented towards the intended purpose and works on any base material (such as wood, aluminum or Forex, etc.).
And that is not all. We can spread your theme seamlessly across large areas – that is what is so special about our graphic composite panels. For instance, your unique design can shine from an entire internal elevation.