REINHOLD KELLER PROVIDES
THE WOW EFFECT
Case Study
CHALLENGE ACCEPTED?
As you enter the clever fit studio in Regensburg's Königswiesen district, you're spoiled for choice. It offers the ultimate workout in a modern, comfortably furnished gym. Or maybe you'd prefer a showdown with the superheroes from the Marvel Universe. Hulk and Spiderman keep watch over the new, light-flooded space, on whose platforms there's even a Ninja course and bouldering area to challenge you. This new facility is housed in a former disco which has since been gutted and now invites you to work out with cool music in a hip ambience.
IMPRESSIVE INTERIOR FITTINGS FROM REINHOLD KELLER AND MB DIGITALPRINT
When it comes to the interior fittings of new and refurbished buildings, you can't go past the REINHOLD KELLER Group. Our many years of experience make us your number one contact and not only in the fitness sector. Which is why franchisees Christian Lichtenauer and Markus Lindner (directors of clever fit Regensburg) also rely on our expertise and the wow factor from KELLER.
Stylish changing cubicles and clothes lockers provide the first eye-opener as soon as you arrive. A huge rhinoceros looks down at fitness fans as they change clothes, for example. The bold and striking wall graphics based on our Lifestyleboard Spa are in perfect harmony with the workout area accentuated in colorful lighting. The lower level includes all kinds of gym equipment and a drinks station. On the upper level, the Ninja obstacle course stands out, which was designed as a tribute to the Ninja Warriors TV show. There is also a bouldering and martial arts zone. You can't help but notice the larger-than-life figures of Hulk and Spiderman, who keep a beady eye on the workout sessions below.
But even after a good workout, there's more to come, because the next wow moment arrives as you enter the shower area. Large-scale graphic elements, which are easy to clean, convey a relaxed, feel-good atmosphere.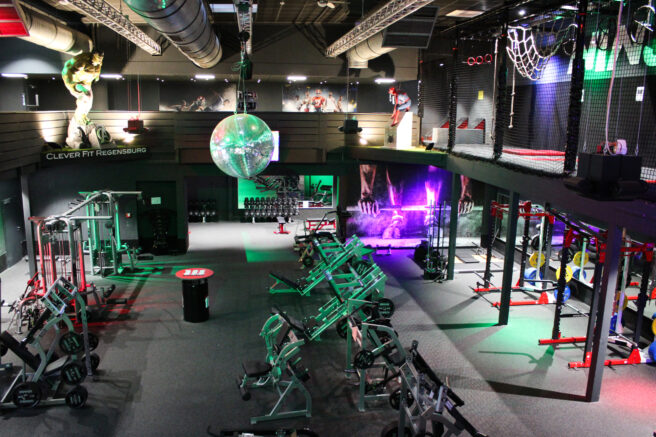 WITH A WOW EFFECT THAT MINIMIZES COSTS AND CLEANING
In addition to the Ninja course and the Marvel Universe superheroes, MB Digitalprint's versatile Lifestyleboard Spa system ensures the wow factor continues at clever fit's redesigned studio in Regensburg. Whether it's for wall cladding, shower wall panels or lockers in the locker rooms, Lifestyleboard Spa offers outstanding features and reduces costs at the same time. Installing the mounting plates is simple and virtually noise-free. The printed elements are not only water-resistant, scratch-resistant and sturdy, but are also designed in a consistent manner. There are virtually no limits to your imagination here, as you can easily see in the impressive graphic elements at clever fit's studio.
In the sanitary facilities, MB Digitalprint's products are highly rated due to their low-level cleaning process requirements and superior cleanliness. The digitally printed support material is antibacterial, resistant to perspiration, saliva and chemicals. The absence of joints also saves you time and money. Even a design change is possible quickly and easily with Lifestyleboard Spa at any time.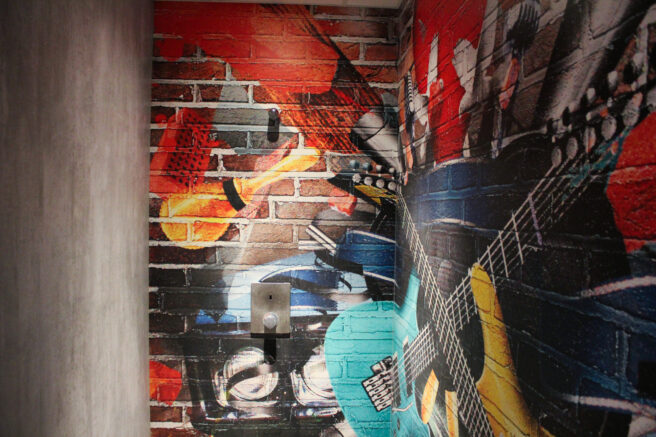 WE ARE YOUR PARTNER
ARE YOU PLANNING A CONVERSION OR
A NEW BUILDING?